Continuing our story…
Wednesday:
A new thing at SCC this year was a "Girl's Morning Out," aka Princess Day. It was intended for both newcomers, people who've never been out shopping before, or those of us you just love shopping. Since I fall into the latter, I got up early and went to the event at Sephora across the road at Perimeter Mall. Sephora is a chain of makeup stores that carries a wide variety of beauty, skincare and hair products. Perimeter Mall is one of  the nice things about having the convention at the Crowne Plaza Ravinia-it's within walking distance, has a good selection of shops and places to eat. While I miss the old hotel (I'll get into that later), and the mini-mall it had, this is not a bad place…
I was asked if I minded being a demo model for one of the makeovers-one of the models didn't show. So I of course did my part for the group and got a day to evening look makeover. I actually liked the look, and got some ideas for later.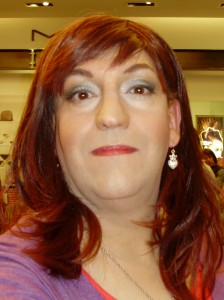 I found my friend Sandra at the
MAC
store, where she was picking up a few things. While waiting, I snapped the above shot so I would remember the look. And hey, I did look great! We looked around a bit, and I picked up a new pair of cheap sunglasses. I rarely buy expensive ones-I either break them or lose them, and why buy something I'll be upset over? I also stopped by a kiosk that had costume jewelery and looked at a knock-off bebe watch that he was asking $35 for. I didn't like it that much, and he knocked a bit off of it but I walked away, knowing that he was going to bargain and I am a veteran of the French Market where everything's negotiable…
Got the car and drove over to the
Nordstrom Rack
 to shop for a pair of sandals; I hadn't found any I really liked at the ones in Dallas. Bit of a wasted trip-not much in my size, and nothing I really felt I had to have. Drove over to my favorite LGBT bookstore,
Outwrite Books
on Piedmont. Really, I like the place, even if I didn't find anything I really wanted this time. Headed back to the hotel to beat Atlanta's horrendous rush hour, thinking I'd go to
Little Five Points
Thursday (I didn't). Like many things this trip, I just didn't do everything I wanted or should have done. That's my biggest regret-I totally zoned out on seeing people who matter, and I can't really offer a good explanation.
Wednesday evening was a mix of missed signals and missing people. Ended up eating (overpriced) fish and chips in the bar because I was ravenously hungry and hadn't made any kind of dinner plans. I did talk to people so I shouldn't complain-meeting people is always a good thing…