Continuing our story…
Thursday:
Thursday is the official first day of the Southern Comfort Conference. The vendor's room opens, seminars begin,  there's a luncheon, etc. I know a few of the vendors, who have been to SCC for years. Shoe Express has been to every SCC, but that's not what's significant to me. It's based in my old hometown, and the owner, Ann, was the first person I'd ever talked to about being TG face-to-face. My first attempts to learn about transgender happened on AOL's Transgender Community Forums. Remember when getting on the Internet meant using modems and AOL charged by the minute? Yes, that's how long I've been at it…
I did some research and found a TG support group in New Orleans, the Gulf Gender Alliance.*  The contact listed was actually in Houston, but she knew someone locally who could talk to me about the group and refer me to a meeting. That person was Ann, a cisgendered woman who was the first person I was ever able to open up to in person. She was, and still is, one of the nicest people I know. For my first few years, she gave me advice, a place to store stuff, opportunities to unload and we became friends. At my first SCC, she was the second person I saw when I walked into the hotel. That's why when I see her, I feel like I'm back…
After saying hi to people like Ann, John with Glamour Boutique (the best place to get things like breast forms and such at truly reasonable prices), Timeless Trends (the best inexpensive off-the-rack corsets I have worn), Marvelous Mayhem and God Save The Queen Fashions (who had Nicole Paige Brooks, a former RuPaul's Drag Race contestant doing makeovers). After lunch-which was actually one of the better meals I've had at the hotel-I actually made a couple of seminars. Yes, that was the earth moving that day…
Thursday evening is usually a group trip to a local restaurant. I decided to bow out, and went out to dinner with someone I've known for years but we've never done something like this. And she'd never been to P.F. Chang's before, so that's where we went. A brief wait for a table, then I introduced her to the joys of lettuce wraps. It's chicken and spices and stuff that you put inside a lettuce leaf and, well, wrap. It's also highly addictive. The waiter didn't bring us enough lettuce, but the manager saw us talking and brought extras! Oh, yes! Dinner was great, the conversation was wonderful. Jessica's someone I like a lot, and I'm glad we had an opportunity to get to know each other better.
Before this year's SCC, I was thinking this might be my last. After eleven years, what's left? I think I found out what-being around people I know and like, meeting new people, and being part of something larger than myself. I have friends who have decided that SCC's not for them anymore, that the whole "transgender community" has little left to offer. And I can understand that feeling-when you reach a point, you start asking "Is this all there is?" Maybe I haven't reached that point. Maybe I never will. Or, maybe I have found a balance someplace?
After dinner, I dropped in on someone's room party that I'd been invited to, but it was so crowded that I just had to leave. Spent the rest of the evening in the lounge being social and making a relatively early evening of it…
Oh, and a photo from the day; self-photography isn't my strong suit, I know…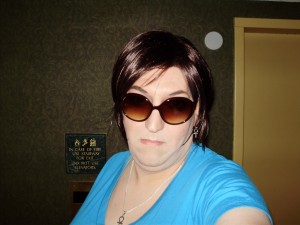 * GGA folded at the beginning of 2010. Katrina decimated the membership, and with no new people coming in the remaining members closed it down. GGA got me out of the house, into the world, and the support I needed to become who I am. And I'll never be able to thank them enough.